Writing books is about experiences, perspectives, inspiration, and purpose.  A small excursion trip of visiting the Sant'Ambrogio Market in Florence encompassed all of these ingredients.  It was a fascinating experience, which broadened my perspective and inspired me to think of the ambiance of a traditional open market. Plus, I had a real purpose: to discover what lampredotto was.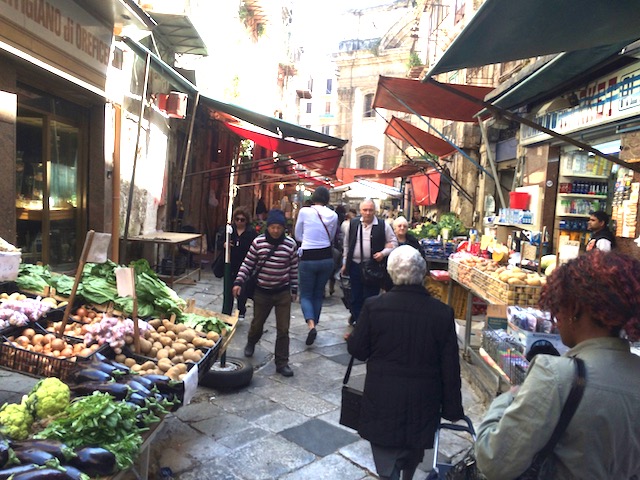 A Field Trip to the Sant'Ambrogio Market in Florence
As the final activity in my Italian immersion class in Florence, we took a trip to the Sant'Ambrogio Market where the group was placed into teams. My partner was a 19-year-old Australian named Shobani who was doing immersion classes as part of a study abroad program.  We were given various tasks to perform such as figuring out what lampredotto (known to some as the "cure of the eel's mouth") is and how one prepares it the Florentine way.  The final task was to interview someone from the market; this we were both somewhat nervous about because it would mean approaching a stranger and speaking an uncomfortable amount of Italian.
Sant'Ambrogio Market
The Sant'Ambrogio Market is nestled in one of the oldest neighborhoods in Florence.  Upon stepping into the market, you can't help but feel that it is part of an old tradition.  The market's roots reach back to the middle 19th century.  As we looked around, we were astonished by what we saw.  The people at the market were dressed more formally than you would find at a shopping mall in the U.S.; there were no sweatpants in sight.  The attire was more business-casual as one would find at a cocktail party. Vendors were yelling mysterious phrases over and over again in Italian.  We could feel an alluring energy rising from the market; it swept us in.
What was this mysterious lampredotto?  The first few people we asked did not know.  Nearly everyone we spoke to was friendly, and we had some engaging conversations, although almost no one spoke any English.  The clients tended to be older. Generally, the youngest people were in their thirties, but there were many grey heads moving about in the organized confusion.  
The Sant'Ambrogio Market is divided into interior and exterior sections with each vendor having a specialty.  Outside, there were many fruit and vegetable vendors shouting out about their products to any who would listen.  "Carchiof, carchoif, carchiofi" (artichokes), they barked. There were ripe Mandarin Oranges, luscious lemons and mountains of fresh strawberries.  We saw barrels of dried fruit: figs, plums, apricots and assorted nuts. One man, with a pork-pie hat, weathered face, and little tufts of silver hair poking out from underneath, engaged in a lively discussion with a man who appeared to be a close friend.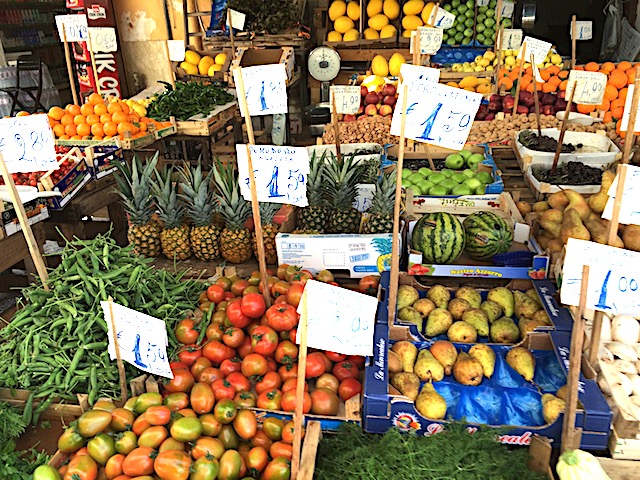 There was another squat man selling ten different kinds of olives, every color from army green to midnight black, all sitting in neat rows behind glass, large green sweet olives, small ones stuffed with pimentos, and so on.  It sounded like he was arguing over prices with another man, but in the din of commotion it was hard to be sure.
There were people selling leather belts, assorted dresses, and other dry goods.  The mood was light, and there was hustle in the air. As Shobani and I went inside a cacophony of smells hit my nose: the stench of freshly butchered meat, the sweet smell of baking bread and rich pastries, and the aroma of freshly brewed coffee.  
I walked to the cheese counter behind hills of Parmesan and Romano, and the cutting fragrance of freshly sliced cheese dug into my nostrils.   All of these smells melted together into one indiscernible aroma of market.
We pushed past oddities like freshly plucked chickens with their heads still attached and cobalt eyes glazed over with death.  Below hanging pigs, there were masses of cow brains nestled near piles of tripe.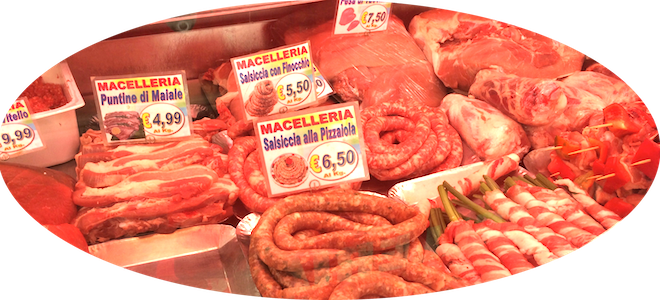 Looking for Lampredotto
Moving on, we struck up a conversation with a jovial baker who stood behind a glass case that was filled with assorted cookies, cakes and pastries: delights with powdered sugar and wild-berry jams like I had never seen before.  Behind him were rows of breads: sheets of focaccia, rounds, and seeded cylindrical loaves. He was friendly and between a bit of Italian and some broken English, for clarification, he explained many of the workings of the market and told us how his mother would labor for hours over lampredotto.  
He smiled when we asked how to make it, as if he were about to reveal an old secret.  "My mother made lampredotto," he said pausing to smile again before he continued, "it would usually take her more than a day to boil the carrots, tomatoes, onion, and the green stuff…" he paused again making a cylinder in the air with his hands, "celery," I eagerly guessed.  "Yes, celery!"
And the Answer Is:
He went on to explain that these ingredients were boiled with cow stomach, and that the stomach was the basis for a stew that was sometimes made into lampredotto sandwiches.  This mixture did not sound appealing, but I suppose necessity is the root of a lot of great cooking.
After his generous explanations of the market and customs, I felt obligated to make a purchase.  I bought this beautiful blackberry pastry, topped with powdered sugar, which he warmed in a small oven, which I split with Shobani.  Then we heartily thanked him for solving the mystery of lampredotto and went in search of our interview subject.
We passed barrels of freshly roasted coffee and a cheese monger with Grana Padano piled above his shoulders.  We came upon a coffee bar where people were drinking espressos and snacking on small sandwiches, stuffed with cured meats.
I spotted this couple that appeared to be in their early seventies.  The man was seated at a table and seemed relieved to be resting as his wife was securing a couple of coffees to accompany their small sandwiches.  
I felt this was a golden opportunity because the kindness in their faces made them seem approachable.  I walked over and told them that we were students of Italian and asked them if they would mind if we asked them a few questions.  The woman smiled and graciously said that it would not be a problem. I asked them how frequently they attended the market, and they told me that they went at least once per week.  
I asked them if they preferred the Sant'Ambrogio Market or the supermarket. She smiled, and they said that they preferred the Sant'Ambrogio Market, but for items that were imported or things that they needed for the house, like laundry detergent, they went to the supermarket.  When I asked what items they bought at the market, they said that they got most of their staples, such as produce, meats, cheeses, and coffee there because it was often fresher and the prices were lower.
Not Your Average Open-market Junkie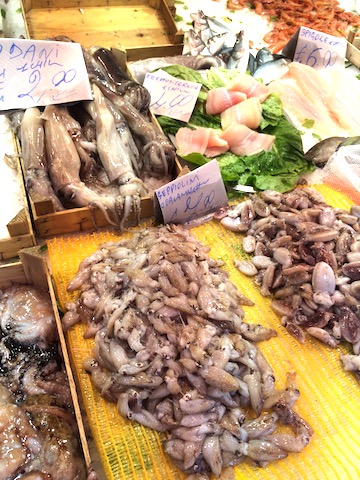 They also mentioned that they had gone to this market and similar ones their whole lives and felt better about giving their money to these vendors.  I was very interested in the information, but I didn't want to keep them from their lunches any longer so we thanked them profusely and left having the satisfaction of knowing that we had accomplished what we set out to do and had some fun while gaining valuable insights along the way.
The experience inside this age-old market was a compelling one.  Growing up in the U.S., the vast majority of my experiences have been shopping in supermarkets with the occasional visit to a farm stand or farmers' market.  
Trying to Understand Markets
It struck me that the prices are often lower in theses open-air markets because there is so much direct competition, whereas in Chautauqua County there may only be three or four large chain supermarkets competing within a forty-mile radius.  This also got me thinking of broader markets and what it means to bring a product to market. I looked back on my education and realized that I had been taught very little about markets in a simple tangible way in school.
This market was part of an established system that reached back well before the U.S. was founded.  People had been going to this particular market since the 1800s, and it is an ingrained part of society that has changed little in more than a century and a half.  I thought how this smaller market related to larger national and world markets.
The interconnection of how we get our goods and how price is determined is complex to the point of being mind-boggling.  The experience of visiting a market like Sant'Ambrogio is amazing from an economic point of view, but the richness of the experience is so much more than market trends and numbers.